eCenter is a part of eWorkPlace.
All system indicators should be placed on eCenter. Follow this approach: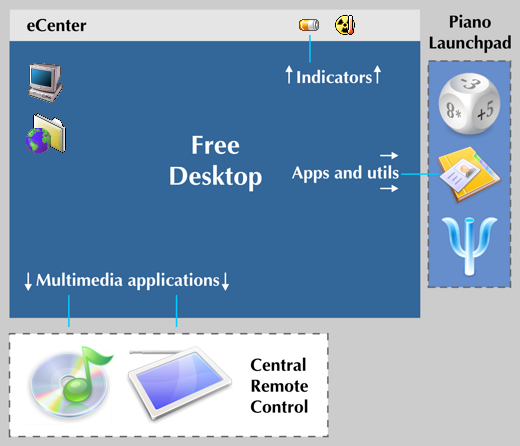 Важность виджетов
Если есть полезные виджеты, то юзер начинает ощущать комфорт
Which applications may be implemented as widgets?
System indicators -- If user wants view information urgently
Small databases -- If user wants input data suddenly
Please pay attention to SysTray widget
If you think that the development of widget is a wrong approach but you want show an icon for user then pay attention to SysTray widget.
System tray is a bar with icons added by the thrid-party applications via SysTray API. Applications will get the messages from user actions on the tray icons. SysTray widget Homepage
Use SysTray toolkit to add the icon the the tray.
Disadvantages: user should install SysTray widget in advance.
Links
How to develop good widget for eCenter?
Every widget should: